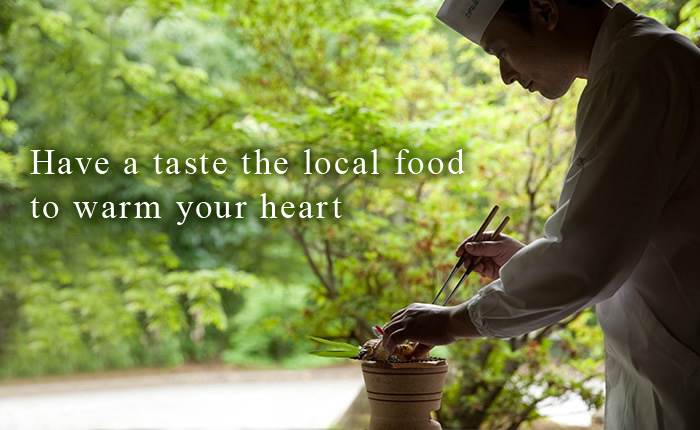 We use the best, the freshest ingredients in the season to make the most dazzling Kaiseki course meal for you.
We only use local quality ingredients for the most colorful dining experience of our guests.
Dinner, Five-sense satisfying dishes
Japanese Kaiseki course meal proudly presented by our chef. Colorful, delicious dishes utilizing the original flavors of ingredients.
Be amazed by the creative dishes of our chef in all your five senses.
We proudly present the tastes of Ōita, such as Bungo beef and Nakatsu conger.
Kaiseki course meals start from selections of 5 courses
*Pictures are for reference only. We aim to serve season-fresh dishes so contents may be varied. Your understanding is very appreciated.
[ YAMA ] A reasonable accommodation offer! A light dinner plan
Dinner is relatively light (8 creative courses); breakfast is healthy Japanese teishoku set meals.
[ MEGUMI ] Standard Kaiseki Plan
Sea-fresh, farm-fresh natural ingredients of the seasons,
accommodation packages with Kaiseki Japanese course meal of Koganei Mountain Villa.
[ KAN ] Grade-up Kaiseki Plan
"Upgrade" your premium dinner with sea-fresh fish and black hair Wagyu beef.
Seasonal premium packages proudly presented with heart!
[ SATO ] Bungo Wagyu beef luxurious package
An accommodation package with a course meal with premium Bungo Wagyu beef and dishes
prepared from season-fresh vegetables and ingredients.
[ KAI ] Accommodation plan to enjoy "Nakatsu's specialty dish"
Buzen seafood and conger luxurious package.
Enjoy Nakatsu conger in tempura and shabu-shabu, simply to the fullest!

Breakfast, A well-balanced, healthy Japanese teishoku set meal
Yutofu (boiled tofu curd) and ceramic plate
grilled Yabakei chicken
Well-balanced , healthy side dishes of vegetables,
soybeans, fish, etc.
Besides, the local premium sangen rice is used.
Our healthy teishoku set meals are
definitely the plentiful source of energy
for your day.

Koroan serves the seasonal freshest and utmost's gorgeous dishes with heart.

A restaurant with table seats and Japanese tatami seats rebuilt from an old cottage.
The ceiling is made from Yakusugi (Japanese cedar) which can certainly enlighten your meal and your spirit.
The high ceiling guarantees spacious enjoyments for your special and different dining experience in lunch and dinner time.
We are more than happy to coordinate for your dining purposes- from small groups to large parties with more than 50 guests.
Dinner and breakfast are served at Koroan, the old, traditional restaurant renovated from a historical cottage.