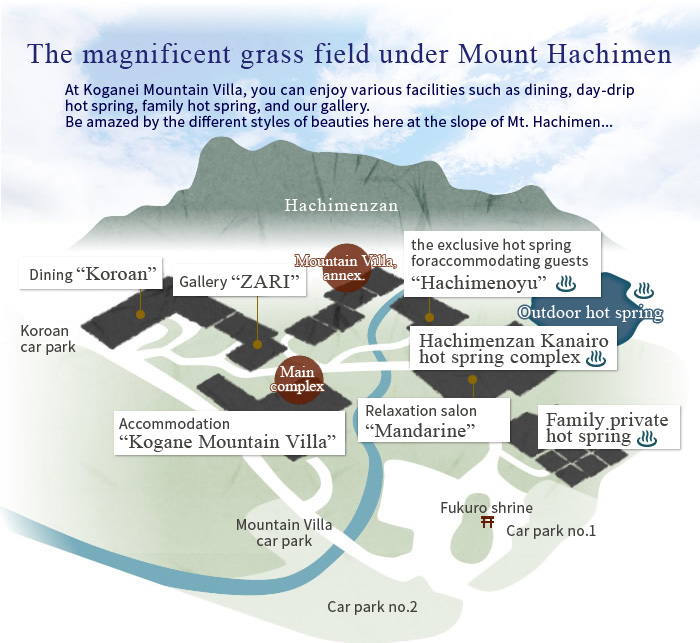 Accommodation, Kogane Mountain Villa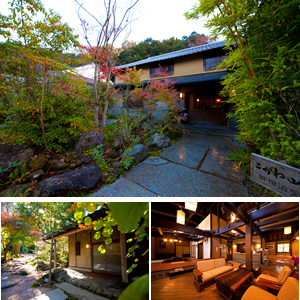 Looking up upon the sky for the gentle sunlights or sparkling stars, and the warm of land. Indulge in the affection of different beauties in different seasons, enjoy the silent, relaxing flow of time. May you feel the joy of having your body and soul be soothed.
After a peaceful moment at your room, relax at the "Hachiman hot spring", the exclusive hot spring for accommodating guests.
*Accommodating guests are able to use Kanairo hot spring complex for free as well.
Stays
Totally 12 guest rooms Main complex- 8 rooms (connected/ 6 Japanese rooms, 2 Japanese-western rooms) Annex- 4 rooms (Japanese room + hearth + indoor hot spring) Exclusive hot spring for accommodating guests (Hachimenoyu, one for gentlemen and one for ladies)
Check‐in
Check‐out
Check‐in 15:00
Check‐out 10:00
Koroan
Koroan, serving the seasonal freshest and utmost's gorgeous dishes with heart. A restaurant with table seats and Japanese tatami seats rebuilt from an old cottage. The ceiling is made from Yakusugi (Japanese cedar) which can certainly enlighten your meals, and your spirit.
The high ceiling guarantees spacious enjoyments for your special dining experience in lunch and dinner time.
Here you can enjoy the premium selection of local food ingredients by our chef, season-fresh heart-warming cuisine.
Business hours

Lunch time
Weekdays/ 11:30 a.m. - 02:30 p.m. (Last Order at 02:00 p.m.)
Weekends & holidays/ 03:00 p.m. (Last Order at 02:30 p.m.)

Dinner time
Weekdays, weekends & holidays/ 05:00 p.m. - 07:30 p.m. (Last Order)

*Dinner time on weekends and holidays are for customers with reservation only.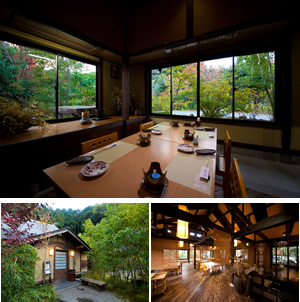 Zari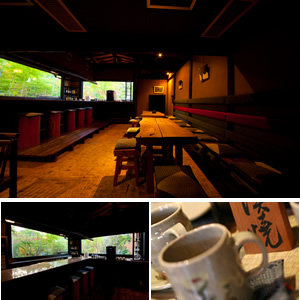 Walking through the secretive entrance,
there is a huge glassy counter, which is like a picture from the nature.
The gallery is a natural space with the healing fragrance of wood and soil.
There are pictures, potteries, and handcrafts from various
artists in different seasons for decoration.
It's an ideal space for concert and press release.
Business hours
It depends on the season.
Please contact us.
Information
Enquires about the usage of gallery, etc.


tel.+81-979-26-8066


Email enquiry
*Please inform the time, day, and purpose of your usage.
Hachimenzan Kanairo hot spring complex
We have as many as nine different styles of natural hot spring, all located right beside the slope of natural green mountains. The relaxing hot spring is simply the present from nature. Indulge in an energy-refilling bath and have all your daily tiredness healed in such luxury with your five senses- the beauties of different seasons and stars up upon the sky.
At the outdoor hot spring in our Japanese garden, guests are surrounded by the superb nature of Mt. Hachimen with versatile beauties of the four seasons. Kanairo hot spring complex opens throughout the year, Accommodating guests can enjoy it for free.
Business hours

Bath & souvenir corners
10:00 to 24:00 Opening hours

Rental family hot spring
10:00 to 22:00 (Business hours) Opening throughout the year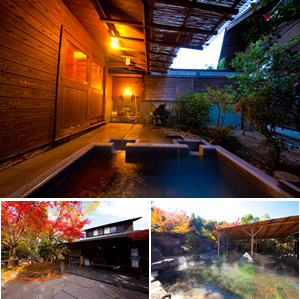 Relaxation salon "Mandarine"
Luxurious yet down to earth, Mandarine, provides you with a place for personal peace and healing in "hot spring" and "nature",
We have a great variety of services including lymph treatment, body and foot massage.
We are looking forward to welcoming you.
Business hours

13:00 to 21:00 (Last reservation)
No fixed holiday